Maximize efficiency and productivity during conference calls with one easy-to-use device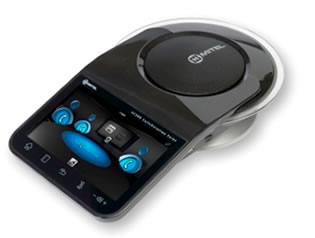 How many times have you been on a conference call and you had to pass the phone around to speak into in order for the people on the other end to hear you? Or perhaps you couldn't hear much at all because the other party was having too many side conversations. Ever been on a conference call and because you weren't prepared for the impromptu brainstorming session that just started, you end up describing the slideshow you put together yesterday?
There's a better way to do conference calls
With the Mitel MiVoice Conference Unit (formerly Mitel UC360 Collaboration Point), conference calls are clear, easy and efficient. The high-definition audio capabilities and the 16 microphones embedded in the unit that auto adjust to focus directly toward the person talking while drowning out side conversations mean you never have to ask the speaker to repeat himself or herself again.
The device's built-in Web browser allows easy sharing of documents through online drop boxes. Or, you can collaborate and share ideas with other parties by connecting your laptop, tablet, smartphone or USB drive to access files. That means there's no need to interrupt discussions or reschedule a meeting in order to share visuals.
The best part is that the unit is self-contained. So deployment is as simple as setting up any other IP/SIP phone.
Key Features and Functionality
16 microphones situated around the device allow clear sound pickup from up to 12 feet away.
Beamforming technology automatically locates the prime speaker in the room, reduces the noise from the other microphones and provides visual indication of the active microphone beam to users in the room.
Includes a built-in, four-party audio conferencing bridge.
The "consultation call" feature provides users the ability to call a participant outside the conference bridge even when the bridge is full.
Can be connected to a business' corporate directory via Active Directory® or LDAP support.
Web browser allows multimedia support for access to cloud-based services, such as Gmail, Exchange Web for contact dialing and chat functions.
Two USB 2.0 connections for transferring or accessing files or to attach accessories, such as a wireless keyboard and mouse.
Micro SD card slot for accessing files.
MiVoice Conference Unit Demo
Learn More