Robust solutions that empower customers, drive productivity and streamline operations.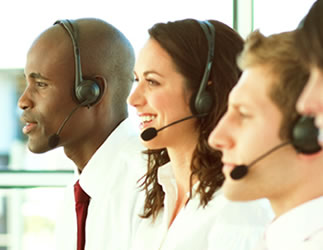 The right contact center solution is critical to your profitability, letting you strengthen customer relationships while protecting the bottom line. Among other things, it must be highly flexible, fitting easily into your existing infrastructure and meeting customer-focused needs in a global economy.
Providing excellent service that nurtures customer relationships and ensures operational efficiency involves more than managing call-handling times and abandon rates. For optimal performance, you need to:
Empower your customers. Serve them the way they prefer, manage their expectations, and deliver on promises.
Drive contact center productivity. Enable agents to handle calls quickly and efficiently, and supervisors to monitor, maintain, and continually improve contact center processes.
Streamline operations. Integrate your Mitel contact center solution with your existing infrastructure, deploying it reliably across a single or multiple sites, and even in a VMware® virtualized data center.
Mitel Contact Center Enterprise Edition
Large contact centers of all kinds can realize those benefits with Mitel Contact Center Enterprise Edition.
Contact Center Enterprise Edition allows you to tailor a solution to meet the unique needs of your contact center, with a combination of robust communications platforms, sophisticated Automated Call Distribution (ACD) software, and a modular suite of feature-rich, web-based applications.
First call resolution. Route calls to the most appropriately skilled agent based on a variety of criteria, including customer identity or information collected by interactive voice response (IVR).
Multimedia capabilities. Serve customers in the medium of their choice, including voice, email, web chat, and social media – and even provide self-service options.
Comprehensive reporting. Flexible, real-time, and historical reporting provides contact center management with the information they need when they need it to manage effectively.
Tools to simplify management. Mitel provides tools to manage everything from your IVR to your workforce, so that you ensure optimal efficiency.
Meeting your contact center needs today – and tomorrow
Mitel Contact Center Enterprise Edition is a highly flexible solution that easily evolves to match changing contact center needs:
Fit and scale. It fits seamlessly into existing infrastructures and can expand to accommodate your growing business. Mitel partnerships with key third-party companies ensure integration with best-in-class complementary applications, such as call recording, workforce management, and customer relationship management (CRM) solutions.
Follow the sun. Leverage agents no matter where in the world they are, with sophisticated ACD. Deliver "follow the sun" applications with multiple call centers to service all time zones around the clock.
Take advantage of virtualization. Like the rest of Mitel's communications solutions, Mitel Contact Center Enterprise Edition can be deployed in a VMware virtualized data center, delivering the many benefits of a private cloud.
Mitel Contact Center Enterprise Edition meets the needs of even the largest global contact center operations.
Learn More
Mitel Contact Center Solutions Brochure (PDF)