Keeping people connected and productive—anytime, anywhere, on any device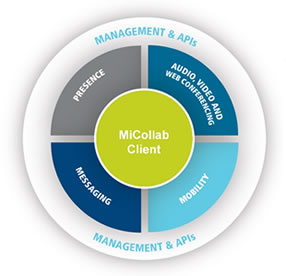 Making communications a whole lot easier
Across your typical business, user collaboration, mobility, and messaging are the core communication requirements. To simplify these functions, Mitel combines them into a single solution: Mitel® MiCollab (formerly Mitel Applications Suite (MAS)).
Promoting simplicity for users
Despite being physically separated, users appreciate being able to find each other quickly and connect without delays and long wait times for return calls and emails. Instead of users toggling between their communications applications, each with their own login procedure, MiCollab is an integrated suite of applications that work together seamlessly. A component of Mitel's Unified Communications and Collaboration (UCC) solution, MiCollab makes it easy to manage all aspects of day-to-day interaction for workers in any role, no matter where they are or how they choose to be productive. For organizations large and small, MiCollab delivers the kind of cost-effective capabilities needed to increase productivity, build competitive advantage, and drive business success.
Promoting simplicity for IT teams
MiCollab operates on a single management console providing administrators with one view of the entire solution – presence, collaboration, mobility, and messaging. As a single solution, MiCollab brings several other benefits to IT teams, including:
One server for all functionality
One interface for user deployment
One management view
One point of control
Multiple deployment options including virtualized environments
Powerful APIs to bring other applications like email and CRM into the user's communication realm
MiCollab's integrated suite of applications includes the following features:
MiCollab Client
A single access point for all your business communication and collaboration needs, MiCollab Client enables real-time access to collaboration capabilities by everyone in your organization, regardless of location or device.
Audio, Video, and Web Conferencing
This comprehensive audio conferencing and web interaction application improves collaboration and information sharing among employees and with customers, partners, and suppliers.
Unified Messaging and Speech Auto Attendant
Unified messaging enables people to manage voice mail, email and fax messages from their personal phones and devices. From basic voice mail to advanced unified messaging, a full-featured and flexible unified messaging solution with a low total cost of ownership satisfies the diverse needs of your entire user population.
Teleworker
Mitel teleworking solutions allow employees "plug and work" access to the corporate voice and data network from home or on the road, seamlessly retaining all of the features and functionality enjoyed at the office.
Cloud Services Application Integration
Out-of-the-box integration of Mitel collaboration features with Google hosted offerings.
MiCollab can be delivered in conjunction with the following call control options:
Mitel MiVoice Business
Mitel MiVoice Business (formerly Mitel Communications Director (MCD)) is highly scalable, proven IP-PBX software that is the foundation of the Mitel Freedom Architecture.
Mitel MiVoice Small Business
The Mitel MiVoice Small Business platform (formerly Mitel 5000 Communicaitons Platform (CP)) enables small businesses to blend their voice system into their data network, and offers flexibility, advanced Unified Communications applications, and cost-effective growth for up to 250 users and multiple sites.
To determine if MiCollab is a good fit for your company, contact your Chesapeake Account Manager or click here to learn more.
Learn More
MiCollab Brochure (PDF)
MiCollab Data Sheet (PDF)
MiCollab Client Data Sheet (PDF)