The Mitel MiCloud hosted PBX service is an affordable and feature-rich phone system for small to mid-sized businesses. Built from the ground-up by Mitel, a technology innovator in telecommunications for over 30 years, features include:
Industry-leading reliability and call quality
Feature-rich, easy-to-use phones
Unlimited calling to the U.S. and Canada
Intuitive web administration
Mobile device integration
Cost Effective
Mitel MiCloud is available for one low, all inclusive, per-user price with no hidden fees. It eliminates the need to buy and maintain an expensive phone system, while feature-rich phones, productivity-enhancing unified communications applications like conferencing and voice mail, and other useful features, all at an affordable fixed monthly cost.
Simple and Flexible
It is possible to eliminate the need for highly specialized IT staff to manage a phone system. Mitel MiCloud's intuitive, customizable and easy-to-use web-based features allow the entire system to be managed in-house. User information can be added, removed, and changed in real-time, enhancing productivity.
A Phone System and a Company You Can Trust
Reliable and Secure: Mitel MiCloud is hosted in highly secure data centers. If an office loses power or goes offline, the Mitel MiCloud Auto Attendant will manage calls, and with Mobile Twinning, calls can be received on mobile phones.
Technology: Unlike many hosted solutions, built on open-source or third-party technology, Mitel MiCloud is built from the ground up to ensure the highest degree of scalability, reliability and security.
Leadership and Stability: Mitel has been an industry recognized leader in solving the communications challenges of small and medium sized businesses for over 30 years. The company also has the innovation to carry customers into the future.
Phones and Devices

MITEL 5304 IP PHONE
Mitel 5304 IP Phone is a cost-effective entry-level display phone that provides access to the features and applications enabled by Mitel's IP-based communications platforms. It is a dual-mode, dual-port, two-line phone with a 40-character backlit display.

MITEL 5320 IP PHONE
The Mitel 5320 IP Phone is an economical, entry-level, self-labeling enterprise phone that is specifically designed for communications-intensive companies that require a converged IP infrastructure to deliver productivity and customer-enhancing applications and services to the user desktop.

MITEL 5330 IP PHONE
The Mitel 5330 IP Phone is a next-generation, full-feature enterprise-class phone that provides users with a large graphics display, Dual Mode Protocol SIP/MiNet, Wideband Audio support, built-in HTML Applications Toolkit, 24 programmable self-labelling keys that provide one-touch access to speed calls, and much more.

MITEL 5340 IP PHONE
The Mitel 5340 IP Phone is a new-generation phone that can be customized to a specific user and includes a large (backlit) graphics display, Dual Mode Protocol SIP/MiNet, Wideband Audio support, built-in HTML Applications Toolkit, 48 programmable self-labelling keys that provide one-touch access to speed calls, and much more.

MITEL 5360 IP PHONE
The Mitel 5360 IP Phone is an exciting, next-generation desktop device that provides a color touch display to graphically deliver rich applications to general business or across multiple vertical market sectors. Demonstrating Mitel's continued focus on the user, the 5360 IP Phone delivers easy-to-use, one-touch access to many phone features and applications.

MITEL 5610 DECT HANDSET AND IP DECT STAND
Mitel's newest peripheral for the desktop portfolio for the 5300 Series IP Phones offers unprecedented convenience and limited mobility for IP Phone users. The 5610 DECT Handset and IP DECT Stand is the ideal mobility solution in hospitality, education, health care and retail, as well small and medium businesses and enterprise markets.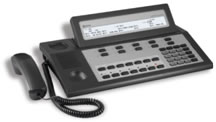 MITEL ATTENDANT CONSOLE
The Mitel 5540 IP Console is the ideal attendant solution for small and medium size businesses using the Mitel Communications Director (MCD) solution or the Mitel SX-200 IP Communications Platform (ICP). This economical answering point can be used as an attendant console, a sub-attendant position for departments or workgroups, or as a back-up answering position.
MITEL UNIFIED COMMUNICATOR (UC) EXPRESS SOFTPHONE
The UC Express Softphone for Mitel Communications Director (MCD) improves the effectiveness and productivity of mobile and remote workers, enabling them to become more accessible to customers, management, and their co-workers regardless of location.
Mitel MiCloud Service Plans
Business
Extension Only
Perfect for lobby and common area phones, Mitel MiCloud Extension Only enables a drop-in, four-digit extension number extended from the main Mitel MiCloud system. Outbound calls initiated from this extension are billed at an affordable per-minute rate.
Extension Only with Voice Mail
Mitel MiCloud Extension Only With Voice Mail is exactly that – our Mitel MiCloud Extension service, with voice mail service enabled to the four-digit extension. Voice mails can be retrieved through the Mitel MiCloud system or through convenient Voice Mail to Email service.
Lite
For businesses that want the flexibility and power of Mitel telephony cloud applications but don't spend enough time on the phone to require unlimited local and long distance dialing, Mitel MiCloud Lite offers affordability without sacrificing call quality or service. Minutes accrued in excess of the bundled amounts are billed at a low, per-minute flat rate.
Advanced
Designed primarily for power users, Mitel MiCloud Advanced offers the feature-rich Mitel Cloud Communications system coupled with the flexibility of unlimited local and long distance calling plans. Among its many quality features, Mitel MiCloud Advanced includes Mobile Twinning, Hot Desking, Corporate Auto Attendant, Voice Mail to Email Support, Contact Dialing and more.
Contact Center
Agent
A robust suite of ACD and contact center functionality that will empower your customer service representatives to focus on improving response times and delivering excellent customer service. When not logged in as an ACD agent, these users have access to all Advanced user features.
Supervisor
Supervisors have access to all the features available to Advanced and Agent users with the added benefits of silent monitoring, real-time queue monitoring and historical reporting, enabling them to monitor, manage and optimize your call center performance.